Whirlscape exits beta, launches version 2.0 of the Minuum keyboard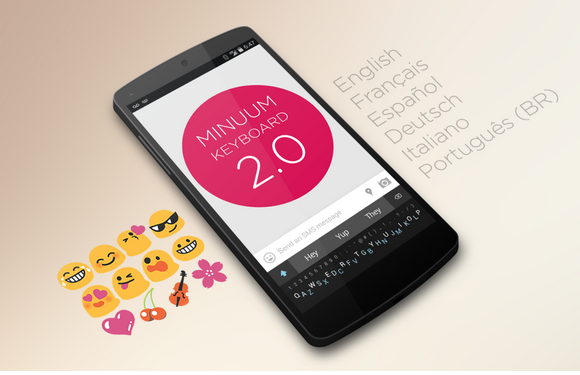 Whirlscape Inc., a graduate of the University of Toronto Early-Stage Technology (UTEST) program's cohort graduate, exits beta with the version 2.0 release of Minuum, their hit "small keyboard for big fingers."
Whirlscape Inc. is a graduate of the University of Toronto Early-Stage Technology program (UTEST), which is currently accepting applications for its third cohort until April 17. Click here to apply.

Version 2.0′s release is already a popular download for Android Apps in the Google Play store. Users can get a 30-day free trial of Minuum and experience new features, including a widely anticipated addition of a Brazilian Portuguese language module, the company's most requested language.

Whirlscape Inc. released version 2.0 of the Minuum keyboard with a host of new features, including the highly-requested addition of a Portuguese (BR) language module.

Will Walmsley, Whirlscape's CEO, spoke with Daniel Bader of MobileSyrup. Here's an excerpt from the article:

"We're constantly testing out new features and improving the disambiguation algorithms," says Will Walmsley, CEO and co-founder of the company he started at U of T's Dynamic Graphics Project lab. The company raised $500,000 in seed funding earlier this year, and under the advisement of Y Combinator, began releasing often, trialling new features in what they call Bonus Panels, secondary functions that quickly allow users to change languages, add emojis and more.

Whirlscape also updated the one-dimensional keyboard's look, giving it a flat fate and a more muted colour set. But perhaps the most important addition for the average user was a full-sized keyboard for times when extra screen space isn't required. "For people who are scared to use Minuum as their full-time keyboard, we made the full-sized keyboard fully-featured," Walmsley tells me. He says there are now 40,000 users of the app, which is a huge number considering they've been charging $3.99 for what amounts to a paid beta.
Darrell Etherington of TechCrunch and Cameron Summerson of Android Police also covered Minuum's new release.

When they aren't making improvements to the Minuum keyboard, the Whirlscape team regularly updates their blog, input. Check out Walmsley's post on how to select the best keyboard for a smart watch.