Startups focused on health, sustainability among winners at Entrepreneurship Week pitch competition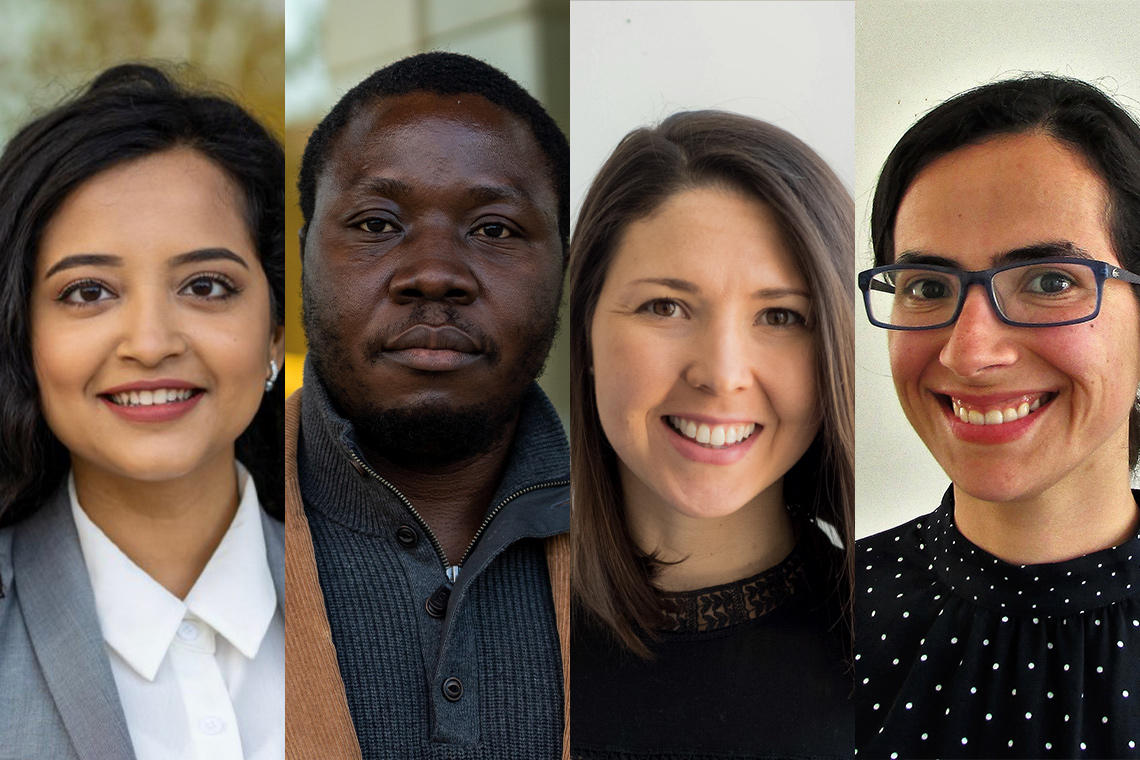 A drug discovery startup focused on brain diseases and a health-tech firm that makes a handheld device to screen for cardiovascular disease took home top prizes at the University of Toronto's largest pitch competition of the year.
With treatments targeting brain cancers and neurodegenerative disorders at their roots, HDAX Therapeutics took home the top prize of $25,000 in the later-stage category of the UTE Startup Prize pitch competition, part of U of T's annual Entrepreneurship Week event.
The first-place prize in the early-stage category, meanwhile, went to SPARKED, whose founder was inspired to pursue solutions to prevent cardiovascular disease after she lost her father to a stroke.
The results of the competition, held virtually earlier in the week, were announced Wednesday prior to the UTE Speaker Series featuring Canadian sprinting legend, Olympic gold medallist and businessman Donovan Bailey.
"The greatest misnomer is [people] think they can get rich overnight – you cannot do that. You also can't be the Olympic champion or the greatest sprinter on Earth overnight," Bailey said, noting the fundamental secrets to success are the same in elite sport and in the business world.
"The first thing that I always tell entrepreneurs and CEOs is also the same thing I tell young athletes, which is that if you don't put in the work, if you're not passionate about what you're doing, if you're not disciplined, if you're not focused – you're not going to get the results that you want."
Sprinting legend and businessman Donovan Bailey, right, speaks with the Globe and Mail's Rita Trichur during the UTE Speaker Series.
The pitch competition and fireside chat with Bailey were among the more than 15 virtual events – which also included startup showcases, workshops, panel discussions and more – comprising Entrepreneurship Week. Organized by U of T Entrepreneurship, the four-day celebration aims to mobilize and celebrate U of T's vibrant startup ecosystem, which includes more than 10 campus-linked accelerators.
Over the past decade, U of T has produced more than 600 venture-backed startups that have created over 9,000 jobs. In 2021 alone, U of T Entrepreneurship supported more than 400 teams.
The pitch competition used rapid-fire format to guard against screen fatigue, with each entrepreneur given three minutes to deliver their pitch before taking part in a four-minute Q&A with the panel of judges that included: Janet Bannister, managing partner at Real Ventures; Lise Birikundavyi, managing partner at BKR Capital; and Mark Steedman, president and CEO at Fibrocor Therapeutics.
Nabanita Nawar, co-founder of HDAX Therapeutics and a PhD student and course instructor in the department of chemical and physical sciences at U of T Mississauga, impressed the judges in the late-stage category competition with her pitch outlining the startup's novel approach to treating brain diseases.
By using a patented mechanism to target the protein HDAC6 – implicated in brain cancers and neurodegenerative disorders – HDAX Therapeutics is looking to bring a high degree of precision and efficiency to deliver a strong anti-tumor effect, which has already been observed in animal studies.
The company is led by trainees out of the lab of Professor Patrick Gunning, who has spun out several successful biotech companies.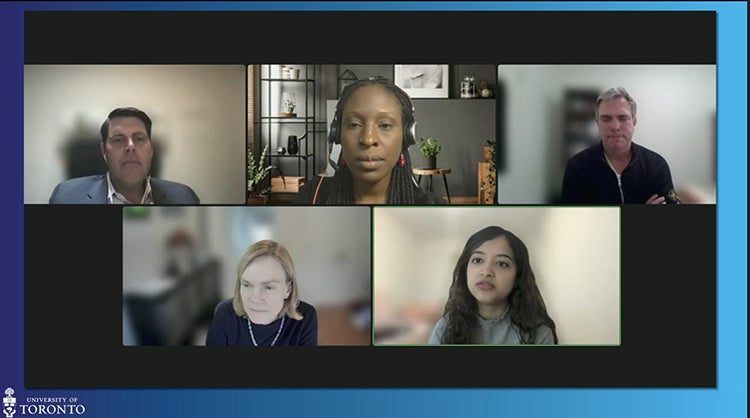 Nabanita Nawar, bottom right, participates in the pitch competition on behalf of U of T startup HDAX Therapeutics while Jon French, director of U of T Entrepreneurship, top left, serves as the event's moderator.
Second prize in the later-stage category went to blockchain startup TransCrypts, which boasts a platform that automates the process of issuing and verifying documentation for organizations.
As part of the presentation that wowed judges in the early-stage category, SPARKED founder Stephanie Buryk-Iggers, a PhD student in the Faculty of Kinesiology & Physical Education,described how the death of her father following a stroke inspired her to seek out an accessible solution to screen for cardiovascular disease risk. SPARKED's solution is an inexpensive handheld device that uses a saliva sample to screen for cardiovascular disease risk without the need for laboratory facilities or technical training.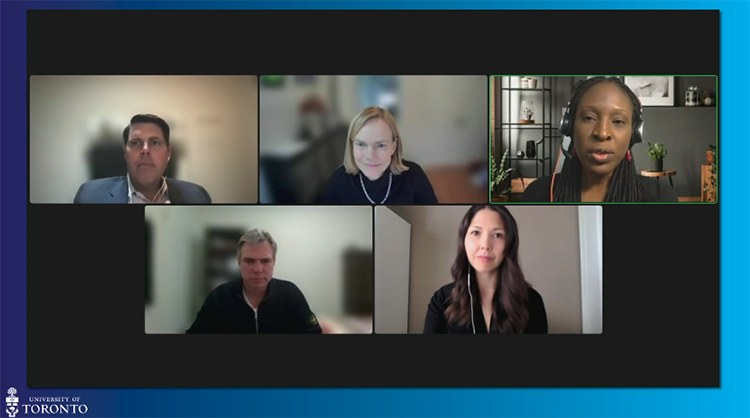 Stephanie Buryk-Iggers, bottom right, makes her pitch to the judges on behalf of SPARKED, which makes an inexpensive handheld device to screen for cardiovascular disease risk.
The second-place prize in the early-stage category went to SnapWriteAI, which has developed a web platform that helps eCommerce businesses quickly generate product descriptions and features from images.
The virtual audience also had their say via the Dongjun Wang Family True Blue Prize People's Choice award. The $3,000 prize went to HOPE Pet Food, which has created healthy and sustainable pet foods made from alternative protein sources such as insects. Meanwhile, Arterial Solutions, a diagnostics company that's looking to introduce the first blood test for peripheral arterial disease, took home the $10,000 Lo Family Social Venture Fund Impact Award.
In all, the prize winners at the UTE Startup Prize Pitch Competition hailed from six different accelerators spanning all three U of T campuses.
Bailey's fireside chat, meanwhile, was titled "From the Track to the Boardroom" and was moderated by Globe and Mail business writer Rita Trichur. Bailey recounted his journey from winning the 100-metre sprint gold medal at the 1996 Olympic Games in Atlanta to overseeing Bailey Inc., the company that manages an array of real estate and brand partnerships, and the Bailey Foundation, which supports a range of philanthropic causes.
He also talked about his approach to managing risk, his attitude towards learning from failure, barriers facing racialized entrepreneurs and his longstanding interest in real estate.
In response to a question from HDAX Therapeutics co-founder Tobi Olaoye during a Q&A session, Bailey highlighted the importance of entrepreneurs not being afraid to network and seek out mentors.
"It's very important for you to reach out to someone who's in the same industry you're in, and who has the success that you're trying to get," Bailey said. "The internet exists, my man. At the end of the day, you can Google whomever and you can reach out to people. And if someone doesn't have time for you, they don't have time for you – but there's always the second guy or second woman, or that person.
"Part of your passion in being successful is being relentless in ensuring that you're successful – so you're going to reach out to whoever to get there."
allTags
No allTags saved to the post yet …